A Little Holiday Romance
Reviewed by Marcia Allen
With the holidays still a few months away, it's time to consider purchases for those many library customers who love a good holiday romance. You know the premise: lonely souls who hate facing the annual celebrations with no one else to care for are in for surprises. Here are some recent releases that are sure to please those who love a romance with a seasonal backdrop.
A Little Christmas Spirit by Sheila Roberts features Lexie Bell, a single mother of son, Brock, facing some of life's difficulties, like aging parents and an injured ankle, as the holidays near. Her neighbor, Stanley, is an embittered widower who refuses to interact with others, until the ghost of his deceased wife urges him to get involved with the life around him. Soon young Brock is referring to Stanley as "grandpa," and the shared holiday fun begins. This little book offers a cure for loneliness.
Keep Me Warm at Christmas by Brenda Novak sets the stage for an encounter between two emotionally vulnerable people. Art teacher Seth has not recovered from the death of his wife, and actress Tia has suffered a serious facial injury that brought her career to a standstill. Both are taking a break at a Silver Springs estate when they have an embarrassing misunderstanding. Soo, however, the two become quite close, that is, until Seth dismisses their relationship casually in front of a friend. Can these two troubled souls mend their differences?
The Christmas Wedding Guest by Susan Mallery concerns two sisters who have given up on the idea of romance. Reggie has still not recovered from an unexpected breakup with her fiancé, and sister Dena has already given up hopes for a partner and is expecting a baby she wants to raise alone. But fate has other plans in store for them. When they are asked to share in preparations for their parents' renewal of vows at Christmas, Reggie encounters an old boyfriend lost during old misunderstandings, and Dena meets a musician mourning the death of his wife. New love? Perhaps, but the two ladies will have to cautiously take risks to find out.
Santa Cruise by Fern Michaels is a more spirited holiday read. High school friends Nina, Amy, Frankie, and Rachael are four highly successfully ladies willing to embark on a singles' cruise for the holidays. Lavish food, exquisite decorations, and speed dating are part of the festivities, and the four friends eagerly participate in the non-traditional events. The highlight of the cruise is a glittery New Year's Ever party that will culminate in exciting new changes for the friends, so join them on this fun-filled excursion.
Still not convinced? Check out new titles by Mary Kay Andrews, Laura Childs, and Debbie Macomber for additional holiday reading treats. There are plenty of inspiring choices.
Elementor Tip for September 2021
For mobile devices (cell phones) we can add a helpful menu. This menu allows user of your website to easily call you, get directly into your catalog, or email you with the click on this additional menu. I call it the Mobil Tool kit and here is one example of what it would look like on a cell phone. It is completely customizable as far as color and what items to display.
NOTES FROM THE CATALOGING CORNER
Did you know that the record display can be customized?
Do your line headings look like this: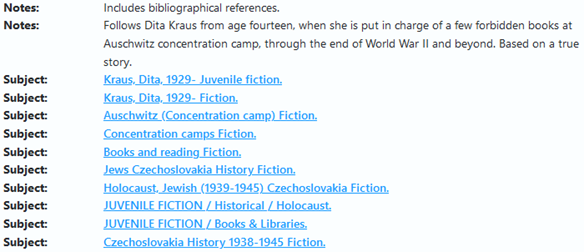 Would you prefer this: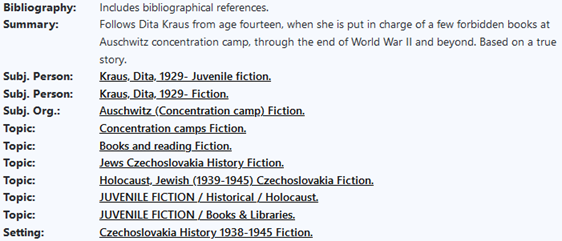 Another change (not shown) is renaming "Subject" to "Genre". Also, if your details are underlined, they are hotlinks for instant searches. Not all libraries have this feature turned on.
Contact Kirk at NCKLS if you are interested in making similar changes and I'll work with you to customize your display.
No one wants to leave money on the table and if you've spent all of your ESG fund, great! If you haven't, then it's countdown time for shopping, but don't worry we won't call you out. Most have spent more 75% and are on-track to spend it all, but – no matter how much you have remaining – there are about 8 more weeks to place orders with B&T before the December 10 deadline.
When you're building carts this time of year, be sure to order only in-stock items or pre-orders with a publish date prior to Dec 31. Although, use caution with pre-orders because they are subject delays. Any items that aren't in-stock when ordered risk forfeiting ESG funds if they don't ship before early February 2022 when all 2021 orders are cancelled.
If you really want an item that's backordered, it's best to use your local money (money sent here by you or your board for purchases) as that money is not tied to a calendar year like ESG funds. When "local orders" are cancelled the money is unencumbered and available again.

We're here to help so let us know if you have any questions about your ESG fund or need advice building carts or placing orders. Happy Shopping!
Available to Checkout! Parachute!
NCKLS has purchased a couple of parachutes!  These are available to borrow for library programming. 
Email: Swilkerson@nckls.org to reserve. Parachutes can be sent on the courier, rotating van or you can pick them up at NCKLS. Loan time is 1 week.
Large 20' diameter fits 18 kids
Medium 12'diameter fits 10 kids.
Parachutes encourage noncompetitive, cooperative play. When children make the parachutes billow, they strengthen shoulder, arm and hand muscles, refine motor skills and develop a sense of rhythm. Tough, lightweight nylon parachutes have reinforced handholds, and each comes in a drawstring bag.
https://jbrary.com/baby-storytime-using-a-parachute/
https://www.alsc.ala.org/blog/2018/12/parachute-in-storytime/