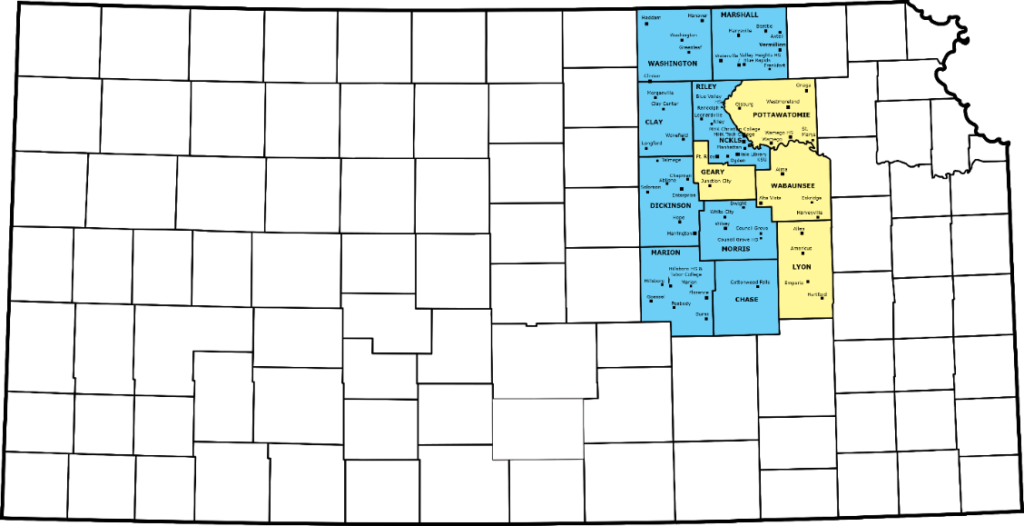 Submitted in accordance with KAR 54-1-5 requiring that "Regional Systems of cooperating libraries shall submit annually to the state library advisory commission for review and amendment a program of services and tentative budget of the regional system of cooperating libraries," and K.S.A. 75-2552.
Approved by the NCKLS Executive Committee – May 2021
Approved by the State Library Advisory Board – June 2021
For review by the NCKLS System Board – August 2021
Section 1: System Description and Purpose
The North Central Kansas Libraries System is one of 7 Regional Systems of Cooperative Libraries created in Kansas Statutes (K.S.A. 75-2547 et. seq.) Regional Systems are charged with the responsibility of strengthening all types of libraries within a defined region and serving all residents of that region.
The purpose of the North Central Kansas Libraries System (NCKLS) is defined by K.S.A. 75-2548. Regional library systems exist "for the state in cooperation with local libraries to provide adequate library services to all citizens of the state through regional systems of cooperating libraries herein provided, by the joint planning and financing of library services to improve existing service, to utilize such federal aid funds as may be available and to extend library service to persons not having the same at this time." NCKLS bylaws further define the mission-"The North Central Kansas Libraries System is a regional system of cooperating libraries whose purpose is to better utilize human and material resources by sharing programs and services."
NCKLS includes 12 counties covering 9,271 square miles, with a total service population of 232,144 residents. As defined by K.S.A. 75-2549b, NCKLS is "comprised of the counties of Washington, Clay, Dickinson, Marion, Marshall, Riley, Pottawatomie, Geary, Wabaunsee, Morris, Chase, and Lyon."
NCKLS members include 40 legally established public libraries, four college/university libraries, seven school districts, one special library and 4 outlets. Outlets provide basic library service points in communities that are generally too small to support a public library.
Taxing Counties
Taxing counties levy a system tax on areas that are not already served by a legally established public library. NCKLS includes eight taxing counties with 33 legally established public libraries and four outlets (designated with *) in the following towns which include:
Chase (population 2,629)
* Burnley Memorial

Clay (population 7,997)
Clay Center (population 3,989)
Clifton
Longford *
Morganville *
Wakefield

Dickinson (population 18,717)
Abilene
Chapman
Enterprise
Herington
Hope
Solomon
Talmage/ Buckeye Township
Marshall (population 9,722)
Axtell
Beattie
Blue Rapids
Frankfort
Marysville
Vermillion
Waterville

Morris (population 5,521)
Council Grove
Dwight
Elm Creek
Township/
Wilsey
White City

Riley (population 73,703) Leonardville
Manhattan
Ogden*
Riley
Marion (population 11,950)
Burns
Florence
Goessel
Hillsboro
Marion
Peabody
Washington (population 5,420)
Greenleaf *
Hanover
Washington
Contracting Libraries
Contracting libraries are in four counties that do not levy a system tax. Contract fees and services are reviewed annually by the NCKLS Executive Committee and approved by the NCKLS System Board. There are seven contracting libraries in the following non-taxing counties:
Geary (population 38,855)

Dorothy Bramlage Public Library – Junction City (serving the county population
Lyon (population 33,392)
Americus Township
Hartford/Elmendaro Township
Emporia
Lyon County Library District #1 – Allen

Pottawatomie & Wabaunsee (service area population 26,074 for both counties)
Contracts as Pottawatomie/Wabaunsee Regional Library System – a single entity in two counties with branches in St. Marys, Alma, Eskridge, Onaga, and mini libraries in Alta Vista, Harveyville, Olsburg, and Westmoreland.
Wamego Public Library is not a part of the Pottawatomie Wabaunsee Regional Library System and contracts independently.

Affiliate Members
Affiliate members are not public libraries; they share services and use of system resources including interlibrary loan services. The operational, funding, governance, and services of the affiliates are not included in the program budgeting for the public libraries of the system.
Affiliates include:
Flint Hills Technical College (Lyon County)
Kansas State University (Riley County)
Manhattan Christian College (Riley County)
Tabor College (Marion County)
Fort Riley Post Library (Riley County)
USD 384 Blue Valley (Riley County)
USD 284 Chase (Chase County)
USD 417 Council Grove (Morris County)
USD 224 Clifton-Clyde (Washington County)
USD 410 Hillsboro (Marion County)
USD 498 Valley Heights (Marshall County)
USD 320 Wamego (Pottawatomie County)
System Governance
NCKLS System Board and Executive Committee
The System Board is the governing body of the North Central Kansas Libraries System by authority of
K.S.A. 75-2550 and consists of one library representative elected by the trustees of each participating library and one representative of each taxing county to represent the territory not within the district of any participating library, but within the tax district of NCKLS.
The System Board's authority and responsibility includes voting on the plan and budget that drive the operation of the system at the Executive Committee. The authority of the Executive Committee is granted in K.S.S. 75-2550a. The Executive Committee consists of 14 members: one member elected from each participating county and 2 elected from the appointees made by the boards of county commissions in the 8 taxing counties.
NCKLS's bylaws are available at http://lib.nckls.org/about/by-laws/.
Staff and resources
| | | |
| --- | --- | --- |
| Position | Staff Member | FTE |
| Director | Eric Norris | 0.3 |
| Assistant Director/Consultant | Dawn Krause | 1.0 |
| Associate Director/Administration | Teri Belin | 0.3 |
| Technology Trainer | LaDonna Clark | 1.0 |
| Rotating Books Collection Coordinator | Denise Coon | 1.0 |
| Business Manager | Jennifer Lund | 0.5 |
| Technology Consultant | Duane Mayer | 1.0 |
| Assistant Technology Consultant | Kim Scaler | 1.0 |
| Acquisitions Assistant 1 | Krystal Cooper | 1.0 |
| Rotation Books Delivery Driver | Clint Castor | 0.5 |
| Cataloging and Acquisitions | Kirk Hargett | 1.0 |
| Library Services Consultant | Sandy Wilkerson | 1.0 |
| Interlibrary Loan Clerk | Ida Smith | 0.2 |
| | | |
| | | |
Membership eligibility
Libraries must meet the statutory regulations of the Kansas Statutes and Kansas Administrative Regulations governing regional library systems and the requirements for system membership.
Public library membership requires a library to meet and operate under K.S.A. 12-1220 et. seq. as well as the requirements of membership under applicable Kansas Administrative Regulations article 54.
Based on the legal service area population identified in the annual Public Library Survey, NCKLS libraries are categorized according to the Kansas Public Library Standards 2020-2024 and include:
Library Service Levels
Gateway Fewer than 500 people
Linking 500 – 1,000 people
Service Center I 1,000 – 2,500 people
Service Center II 2,500 – 10,000 people
Major Service Center I 10,000 – 25,000 people
Major Service Center II 25,000 – 100,000 people
Major Resource Center More than 100,000 people
Academic libraries, school district libraries, and special libraries may petition for membership under the applicable Kansas Administrative Regulations article 54. Affiliate libraries include school district libraries, academic libraries and special libraries.
Service outlets may not petition for membership but may be eligible to receive rotating collections or summer reading program services from NCKLS. Service outlets must be administered by a municipality, public school district or 501(c3) educational and literacy non-profit. Service outlets must be housed in a facility that is accessible to the public at least 8 hours a week, provide service to all residents of the region and cannot charge for service. A service outlet must be annually authorized by the Executive Committee and their responsible administrative entity must complete an annual report.
Section 2: Annual Plan of Service
NCKLS' services and annual goals are consistent with the purpose of regional library systems and are defined by six service areas.
Consulting services
Programming support for lifelong learning
Continuing education and training for library staff and trustees
Technology support
Resource sharing
Grants and financial support to public libraries in taxing counties
The program of services, goals, and objectives and budget for the coming year are reviewed annually at the NCKLS Executive Committee meeting in May, and are presented to the NCKLS System Board for approval at the annual meeting on the first Thursday in August.
GOAL 1:
Offer both individual and small group consulting services necessary to manage the breadth of library operations across our diverse communities.
Build and provide expert consulting services and make this shared knowledge available to all libraries in the region regardless of size, budget or staffing. Library staff and library boards may call on our consultants for assistance in the areas of technologies, programming, library governance, administration, operations and more.
Activities:
Host bi-monthly director meetings where staff share key information and the group can provide feedback to consultants.
Maintain and deliver information about available system services and topics of interest, including a bi-monthly newsletter and an updated system website.
Maintain a current and vibrant collection of professional library materials that are available for loan.
Provide on-demand consulting with public library board members using the Kansas Library Trustee Manual as a key resource, including an orientation to NCKLS services. This supports the Kansas Public Library Standard's recommendation that all new library trustees participate in an orientation upon appointment to the library board.
Regularly visit libraries within the system to help address specific issues that arise and to maintain community relationships.
Advocate for libraries within the system as necessary by staying abreast of developments that could affect legislation or other Statutory requirements.
Continuously educate consultants by allowing them to regularly attend training and education events to inform their consulting practice and to provide current and future trend related information back to system libraries.
Aid library boards in adopting and making available written by-laws and policies in key operational areas as advocated in the Kansas Public Library Standards.
Create and deploy a formalized new library director orientation that includes a schedule of consultant visits and other materials needed to get new employees up to speed quickly on key system resources and services.
GOAL 2:
Empower library staff and stakeholders with resources and assistance needed to support all our communities in the pursuit of lifelong learning.
Support programming and other services to help our libraries play a critical role in lifelong learning. This includes key summer reading program support to ensure that children and teens maintain their learning throughout the months away from formal schooling while also keeping adults engaged in reading related services and events.
Activities:
Directly support summer reading programs for children, teens and adults by providing comprehensive summer reading program materials. This includes NCKLS staff support of the statewide summer reading product, Reader Zone.
Provide training specific to the annual summer reading club materials and themes, including hosting dynamic sharing events amongst library staff.
Participate in statewide sharing of resources by collaborating with other regional library systems on various library programming.
Develop and maintain programming kits for all ages to save library staff time and effort in program planning.
Deploy a survey related to current and future needs for programming support in 2022.
Encourage use of statewide databases and other shared resources available to all Kansans via the State Library of Kansas including information on issuing Kansas Library eCards to local patrons and providing training to library staff on statewide resources that they can the share with the public.
GOAL 3:
Support the educational needs of library staff and boards to meet the Kansas Public Library Standards related to the necessity for continuing education.
Offer educational opportunities to groups of library staff and stakeholders in a variety of formats, as well as provide funding to attend workshops, conferences or activities that meet individual and library needs. The Kansas Public Library Standards indicate the need for library personnel to pursue an ongoing program of continuing education activities, including technology training. In addition, the standards indicate that board members should participate in at least one continuing education activity annually.
Activities:
Schedule a robust annual continuing education program based on feedback from system members that includes a variety of training formats including in-person and online offerings.
Purchase group licenses to major library training events offered in Kansas, as well as nationally when applicable.
Support every new public library director through participation in the APPLE (APplied Public Library Education) program which provides key foundational library skills and leverages the power of regional collaboration to provide consistent training statewide.
Fund continuing education grants and travel reimbursement for librarians and trustees to support workshop costs, travel, registration and attendance at a variety of events.
Curate key online content for library staff and board members to take advantage of free continuing education opportunities offered nationally.
GOAL 4:
Support technology needs to meet hardware, software, network and security needs of member libraries and their communities.
Robust technologies are a necessity for public libraries to bridge the digital divide, to maintain secure systems and to enhance resource sharing. For libraries with minimal staffing or lack of such specialized expertise, our two technology consultants provide support for vital computer and telecommunication systems to ensure library productivity and continuity of public services. Our technology trainer keeps library staff updated on existing and new technology applications/software to ensure they can effectively serve their communities.
Activities:
Assistance in the development and maintenance of technology plans to meet the Kansas Public Library Standard. This includes guidance in annual equipment purchases and aid in spending system technology grants to meet the goals of each library.
Maintenance and evaluation of various library technologies, including capturing technology specific data on our libraries to support annual reporting at the state and federal level.
Provide small group and one-on-one technology training on library and productivity applications.
Support the Kansas Public Library Standard that every library has an Internet webpage that contains current information about library services and programs by purchasing server space and offering technology support for our WordPress platform.
Coordinate and support annual e-rate applications to take advantage of monies provided by the federal government for telecommunications.
Support for purchasing and installation of technology equipment and security software to ensure libraries are maintaining standard network security protocols.
Offer on-demand troubleshooting support via phone, email, remote access, and in person.
Research, purchase and maintain Internet filtering software for public libraries to be CIPA compliant when necessary.
GOAL 5:
Participate in, provide resources and support system-wide sharing of services to promote efficiencies in technical services, materials processing support and shared collections.
Subsidize efficient, low-cost technical services for ordering, cataloging and processing materials to encourage libraries to share resources and maintain accurate holdings. Maximize volume discounts for materials and supplies. We offer access to a collection of popular reading material and information resources in print and in digital formats to expand resources available to communities.
Activities:
Support for 22 public libraries participating in the NorCat regional catalog, including administrative and technical support for AGent Verso.
Coordinate purchasing, processing and cataloging services to facilitate the acquisition of library materials and supplies for optimum discounts.
Match funding for eligible libraries for courier services via the Kansas Library Express or supplement interlibrary loan postage costs to encourage resource sharing.
Assist with interlibrary loan for borrowing and lending materials.
Provide an annual subscription to OCLC's Cat Express for system-wide use.
Funding and selection of shared digital resources.
Circulate a collection of newer titles that appeal to a wide range of readers across the region. The focus of the collection is to supplement and update the member library collections and support readers of all ages.
Assist with multiple aspects of collection management.
Evaluate resource sharing products/services to continuously meet the needs of our libraries.
GOAL 6:
Support libraries in taxing counties by providing financial grants (with a match requirement) to support basic services and encourage innovation.
In addition to extended service grants for library collections, eligible libraries in taxing counties may apply for and receive grants for technology improvements, service improvements for their facilities, continuing education and programming grants. All of these grants align with the standards outlined in the Kansas Public Library Standards 2020-2024.
Activities: