Diecuts from the North Central Kansas Libraries
NCKLS has the following die-cuts available for system libraries. To place an order, contact cbarta@nckl.info or call 1-800-432-2796 x140. You will need to send the paper to us, and we will make the die-cuts you ordered and we'll send them back to you. The images are each on an 8 1/2″ x 11″ sheet of paper so you can figure approximately how many items will fit on one page.
The categories we have are: Animals, Cards, Miscellaneous, People , Seasonal, Sports, and Transportation.
NOTE: You'll need Adobe Acrobat Reader to view these files.
Acrobat Reader is available free from

Use the back button on your browser to come back to this screen after viewing an item.
*This means a new diecut has been added to collection for 2009.
Example of a die-cut: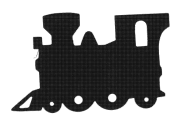 ANIMALS
Prairie Dog, Sunflower & Grasshopper
CARDS
MISCELLANEOUS
Mini Ice cream Cone, Popsicle, Cupcake, and Ice Cream Scoop
PEOPLE
SEASONAL
SPORTS
TRANSPORTATION