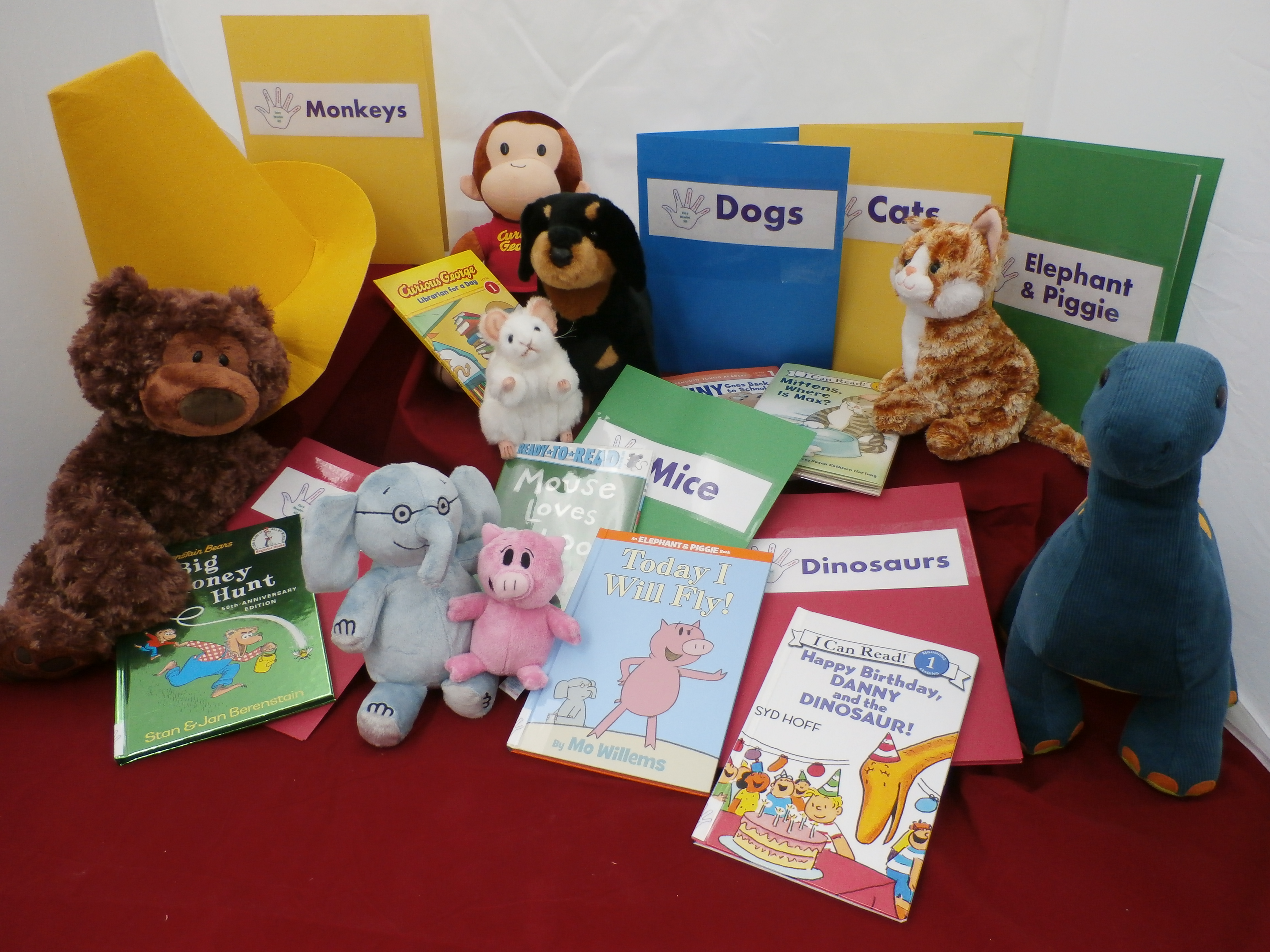 The NCKLS' Easy Reader Kits are designed to be used with children who are learning to read. The Easy Reader Kits contain easy readers focused on a theme along with a stuffed animal. Because many children who are learning to read need a non-judgmental reading experience in order to help them develop confidence in their reading abilities, the kits contain a stuffed animal to provide children with a safe and comforting audience.
There are eight Easy Reader Kits available for check out.
How does it work?
Kits are checked out for 2 months
Kits can only be checked out to libraries
Courier, van, or mail can be used to transfer the kit
Contact Melendra to check out a kit at 1-800-432-2796 ext. 143 or by e-mail at msanders.
To find out what kits are available, check Verso, call, or email.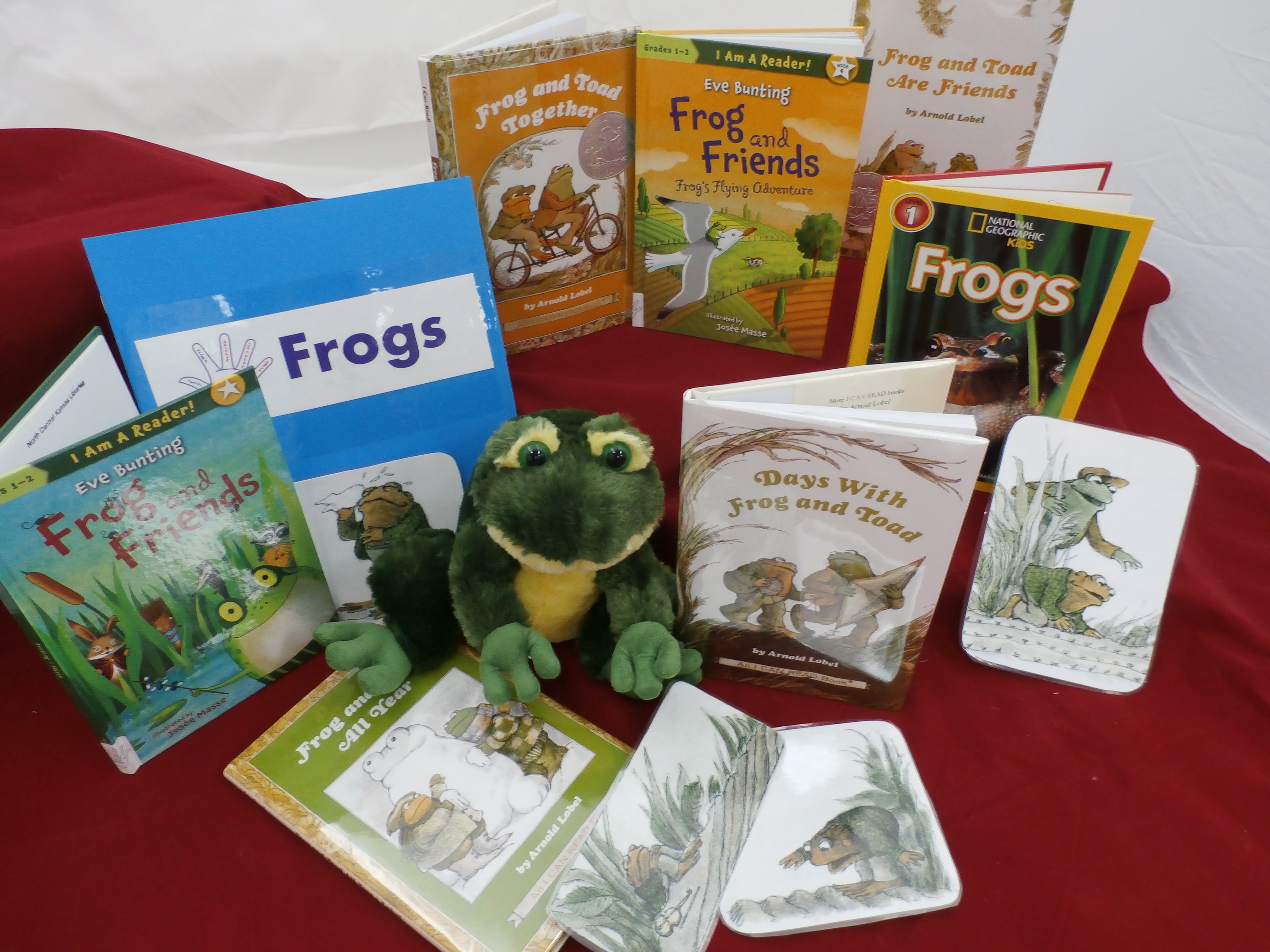 #1 Elephant & Piggie
Kit Includes:
Gerald the Elephant toy
Piggie toy
Five Finger "Tips" sign
Books Included: My Friend Is Sad; There Is a Bird on Your Head!; Can I Play Too?; I Broke My Trunk!; Happy Pig Day!; Today I Will Fly!; I Will Surprise My Friend!
#2 Monkeys
Kit Includes:
Curious George toy
Yellow Hat
Five Finger "Tips" sign
Books Included: Tugg and Teeny; Curious George Librarian for a Day; Monkey Play; Hand, Hand, Fingers, Thumb; More Spaghetti, I Say!; Hang on Monkey!; Monkey See, Monkey Do
#3 Frogs
Kit Includes:
Frog toy
Retelling pieces for "The Garden" from Frog & Toad Together
Five Finger "Tips" sign
Books Included: Frog's Flying Adventure; Days With Frog and Toad; Frogs!; Frog and Toad All Year; Frog and Toad Together; Frog and Toad Are Friends; Frog and Friends
#4 Dinosaurs
Kit Includes:
Brontosaurus toy
Five Finger "Tips" sign
Books Included: Danny and the Dinosaur; Dinosaur Hunt; Fly Guy Presents: Dinosaurs; Dinosaurs; Dinosaur's Day; Happy Birthday, Danny and the Dinosaur!; Dinosaur Babies
#5 Mice
Kit Includes:
Mouse toy
Five Finger "Tips" sign
Books Included: Penny and Her Song; Mouse Soup; Mouse Loves School; Mouse Makes Words: A Phonics Reader; Mice Are Nice; Mrs. Brice's Mice; Little Mouse Gets Ready
#6 Cats
Kit Includes:
Cat toy
Five Finger "Tips" sign
Books Included: Mittens, Where Is Max?; Scat, Cat!; MAC and Cheese and the Perfect Plan; What's Your Sound, Hound the Hound?; Brownie & Pearl Grab a Bite; Friday the Scaredy Cat; The Cat in the Hat
#7 Dogs
Kit Includes:
Dog toy
Five Finger "Tips" sign
Books Included: A New Friend; Go, Dog, Go; Biscuit Plays Ball; Drop It, Rocket!; Carl and the Kitten; Tiny Goes Back to School; Dixie and the Good Deeds
#8 Bears
Kit Includes:
Bear toy
Five Finger "Tips" sign
Books Included: Brown Bear, Brown Bear, What Do You See?; One Saturday Evening; Little Bear; The Big Honey Hunt; I Want My Hat Back; A Bug, a Bear, and a Boy; Kiss for Little Bear