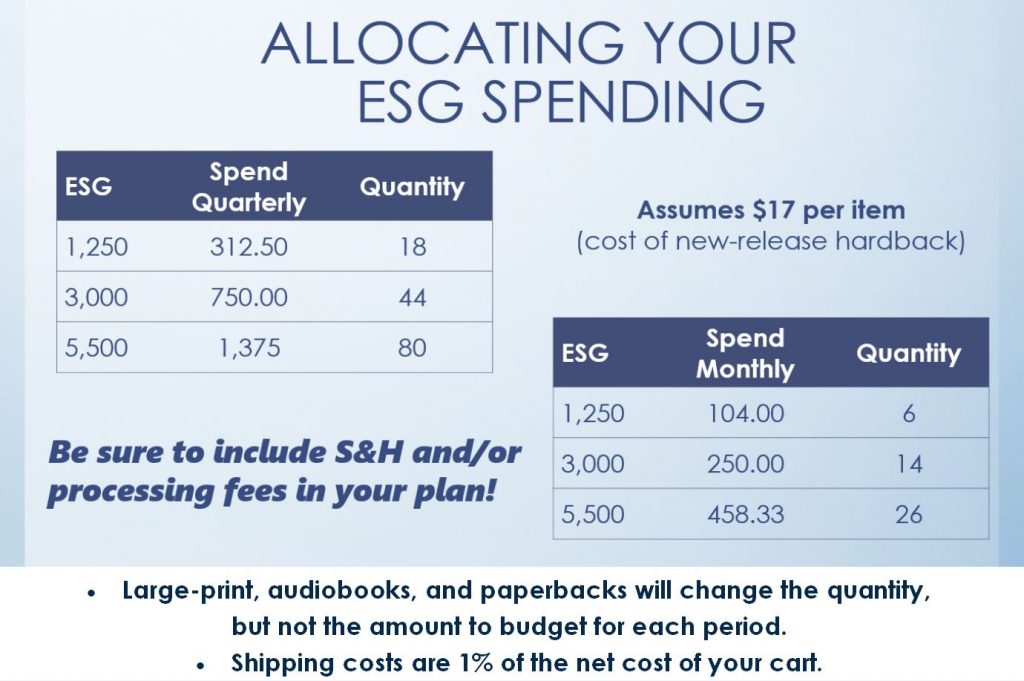 View prices for supplies, available vendor discounts, and the cataloging services offered to your library.
Supplies
We offer processing, circulation and mending supplies to member libraries at a substantial discount. Please contact Denise Coon at (785)776-4741 Ext. 806, or dcoon@nckls.org
Delivery by USPS, Courier, or Book Van depending on size and quantity of items ordered.
Ordering
Member libraries can order books and other materials using Baker and Taylor's Title Source 3 online ordering software. B & T offers member libraries generous discounts for materials, as well as the opportunity to track purchases and budgets.
Instructions to use Baker and Taylor can be found (in pdf format).
For help with using Title Source 3, please contact Marcia Allen at (785) 776-4741 Ext. 601, or mallen@mhklibrary.org
Cataloging
Cataloging and classification for library materials purchased through Baker & Taylor or from other vendors can be supplied by NCKLS. Books or materials received as gifts or already owned by member libraries may also be sent to system headquarters for cataloging and processing.OCLC is the source for cataloging. Records for all materials cataloged through NCKLS are automatically added to the Kansas Library Catalog.
Libraries may receive OCLC card sets or electronic MARC records.
In order to assure that cataloging and classification meet individual library standards, each library is required to complete a cataloging profile. Dawn Krause can assist in this process.
Marlene Moormann at (785) 776-4741 Ext. 603, or marlene@mhklibrary.org provides cataloging records for the following libraries: Axtell, Beattie, Burns, Clifton, Cottonwood Falls, Dwight, Florence, Frankfort, Hope, Vermillion, Waterville, White City, and Wilsey.
Processing
Member libraries may choose to have book covers, cards, pockets, and labels added to books as needed. This allows libraries to receive materials in shelf-ready format.
Fees for cataloging and processing differ based on service and library type.
Questions about any of these services can be directed to Dawn Krause at (785)776-4741 Ext. 801, or dkrause@nckls.org
Supplies discounts are subject to change. Please contact LYRASIS Member Services for the most up to date pricing and information.
Weeding
CREW: A Weeding Manual for Modern Libraries (Continuous Review Evaluation and Weeding), updated by TSLA -Texas State Library and Archives.

Weeding is an important part of collection management. When weeding there are many things to consider, the CREW manual identifies 6 general criteria to use.
Weeding is another term for de-selection. NCKLS wants your collection to stay current, relevant, and in good condition for your community. Weeding should be done on a continual basis. Call Dawn, Marcy, and Sandy for assistance.