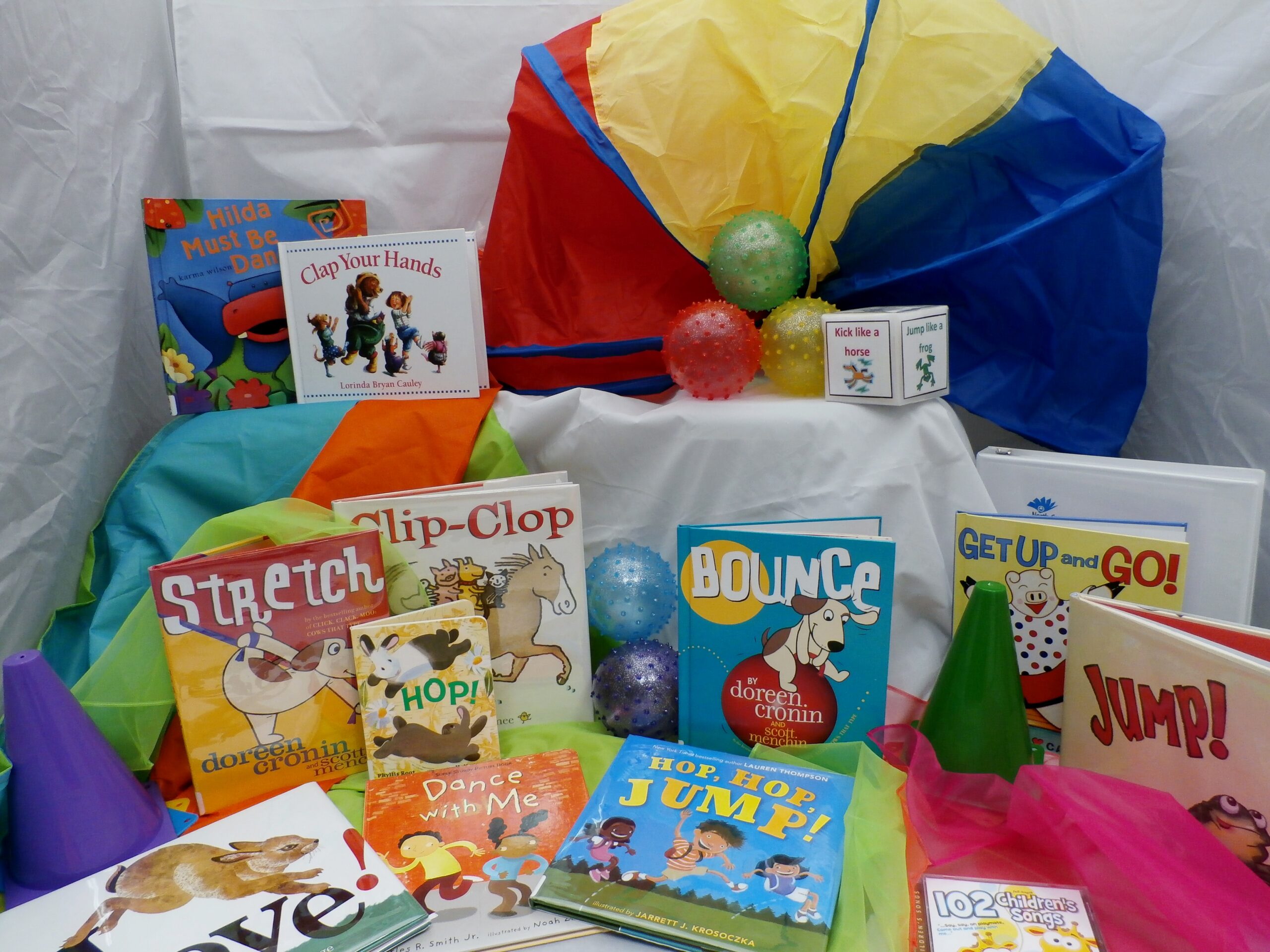 Kit Includes:
Six small traffic cones
27 Movement Scarves
10 foot Parachute
Action Cube
102 Children's Songs Volume 2
Tunnel
Five Knubby Balls
Baby Shoes folder story
Books Included: Bounce, Clap Your Hands, Clip-Clop, Dance with Me, Get Up and Go, Hilda Must be Dancing, Hop Hop Jump!, The Busy Body Book, Jump!, I Got the Rhythm, Move!, and Stretch.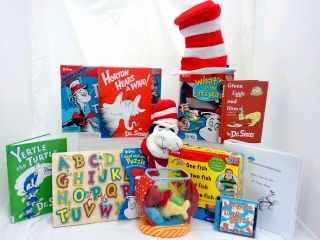 Kit includes:
One Fish Two Fish Red Fish Blue Fish Fishbowl
I Can Do That! Game
Wood Alphabet Puzzle
Cat in the Hat Puppet
What's in the Cat's Hat Game
One Fish Two Fish Red Fish Blue Fish Memory Game
A Tribute to Dr. Seuss CD
Magic Hat folder story
Books include: The Cat in the Hat Book, Dr. Seuss's ABC, Hop on Pop, Mr. Brown Can Moo! Can You?, Would you rather be a Bullfrog?, There's a Wocket in my Pocket!, One Fish Two Fish Red Fish Blue Fish, The Foot Book, Green Eggs and Ham, Fox in Socks, Yertle the Turtle and Other Stories, and Horton Hears a Who!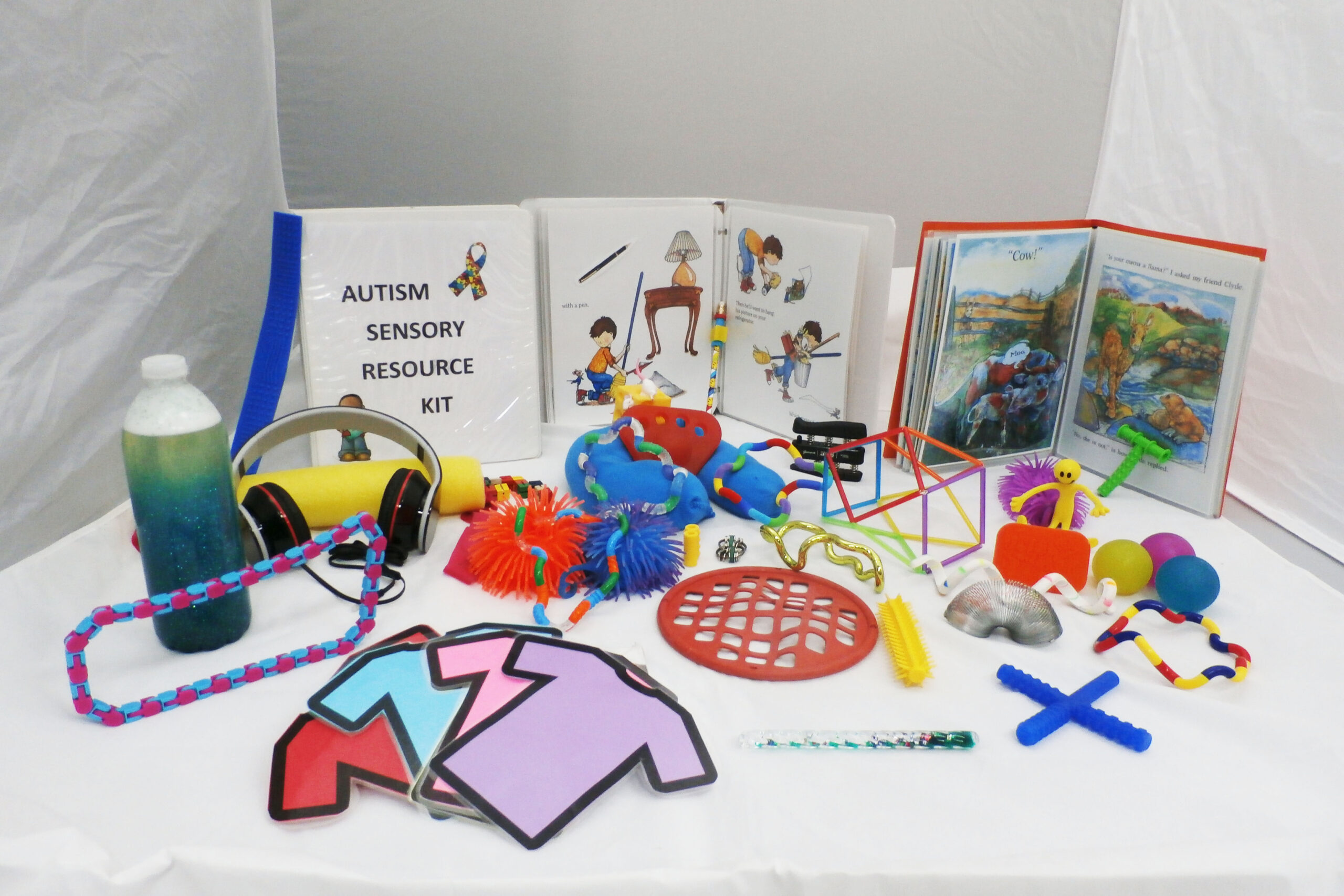 Autism Spectrum and Disability Resources
Kit Includes:
Varied Tangles
Varied fidgets
Tactile tiger sensory brush
Adapted books: Is your Mama a Llama?/If you give a mouse a cookie
Flex Grip
Hand Therapy Exercise Balls
Calm Down bottle
Relax Tangle
Lap belt sensory tool
This kit contains many resources and articles for making your sensory story time easier.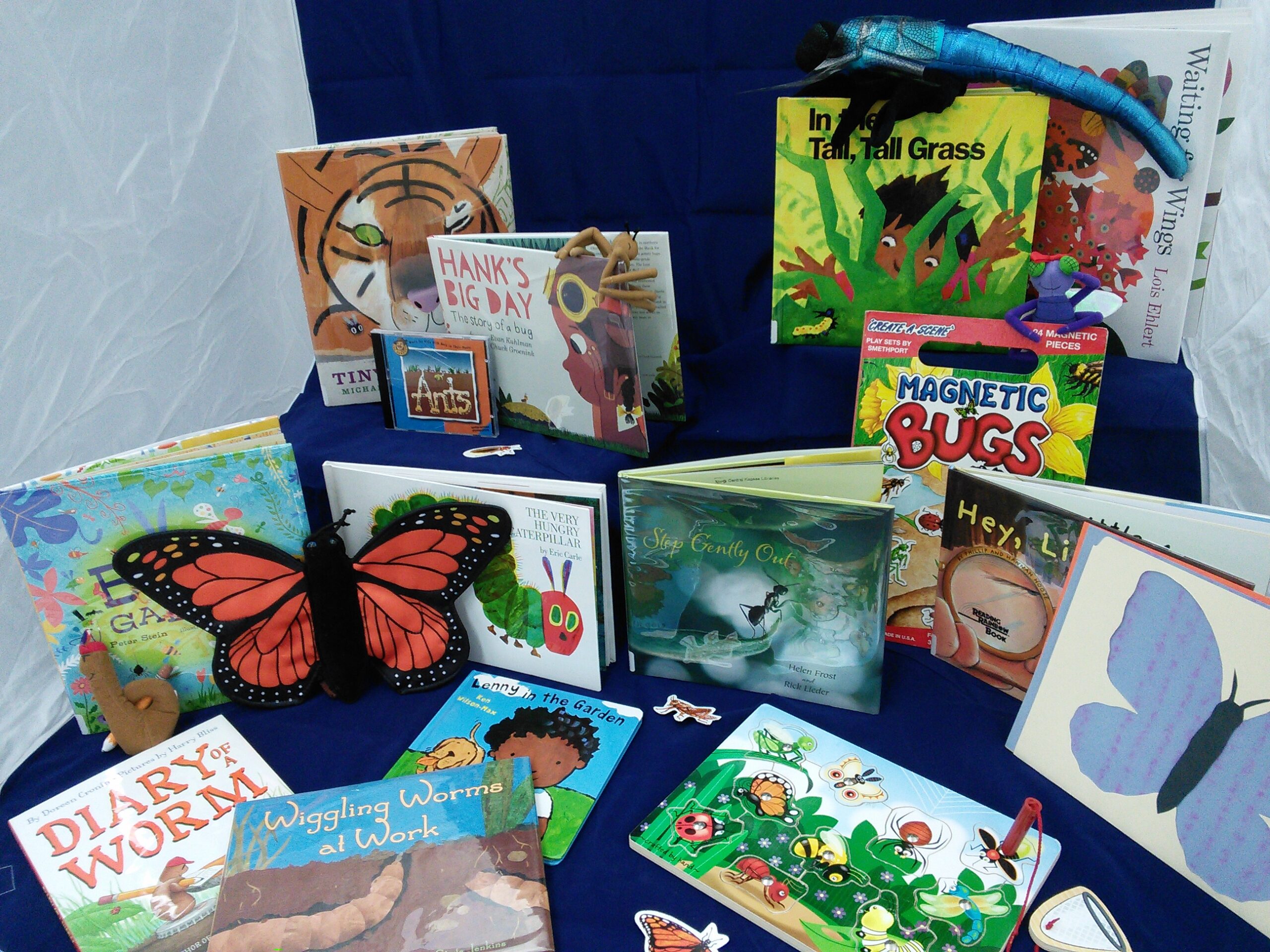 Kit Includes:
Ants CD
Diary of a Worm Playset
Monarch Butterfly Hand Puppet
Dragonfly Hand Puppet
Magnetic Bugs Playset
Magnetic Garden Insect Puzzle
Lenny's Garden Flannel
Butterfly Wings folder story
Books included: There's a Bug on My Book!, Lenny in the Garden, Waiting for Wings, Tiny Little Fly, Hey Little Ant, Wiggle Worms at Work, Diary of a Worm, Hank's Big Day, The Very Hungry Caterpillar, Bugs Galore, In the Tall Tall Grass, and Step Gently Out.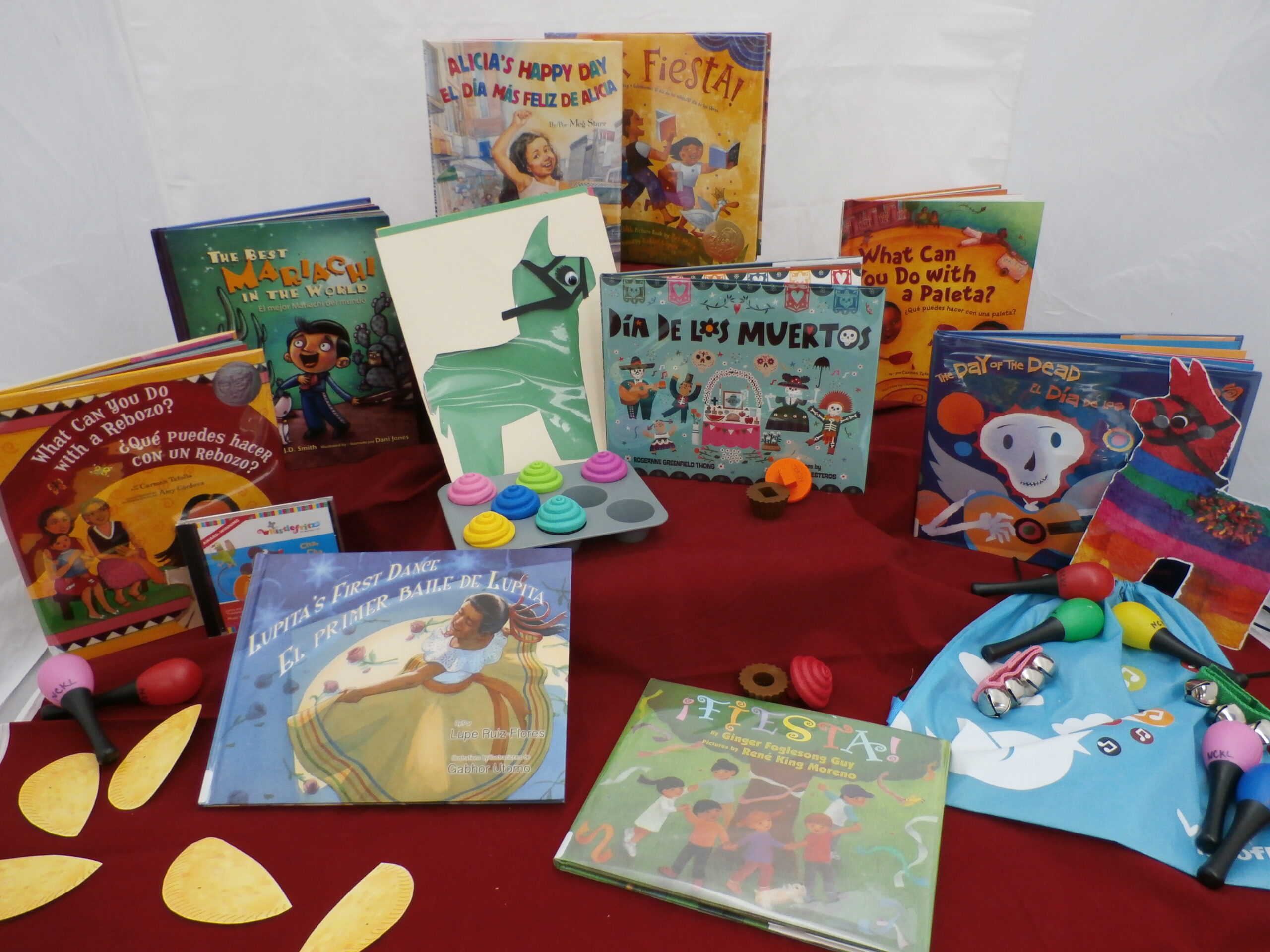 Celebrations (Bilingual Spanish/English)
Kit Includes:
Matching Shapes Cupcakes
Maracas, Bells, and bag of Music Makers
I'm a Piñata flannel rhyme
5 Empanadas flannel rhyme
Magic Piñata folder story
Cha, Cha, Cha CD
Books Included: Clatter Bash! A Day of the Dead Celebration, Alicia's Happy Day/El Dia Mas Feliz De Alicia, Lupita's First Dance/El primer baile de Lupita, What Can You Do With a Paleta?/Que puedes hacer con una paleta, El dia de los muertos/The Day of the Dead, The Best Mariachi in the World/El Mejor Mariachi Del Mundo, What Can You Do With a Rebozo?/Que Puedes Hacer Con un Rebozo?, Book Fiesta!/Celebremos El Dia De Los Ninos-El Dia De Los Libros, Dia De Los Muertos Fiesta!, Count Me In! A Parade of Mexican Folk Art Numbers in English & Spanish, and Dale, Dale, Dale: Una fiesta de numeros/Hit It, Hit It, Hit It: A Fiesta of Numbers.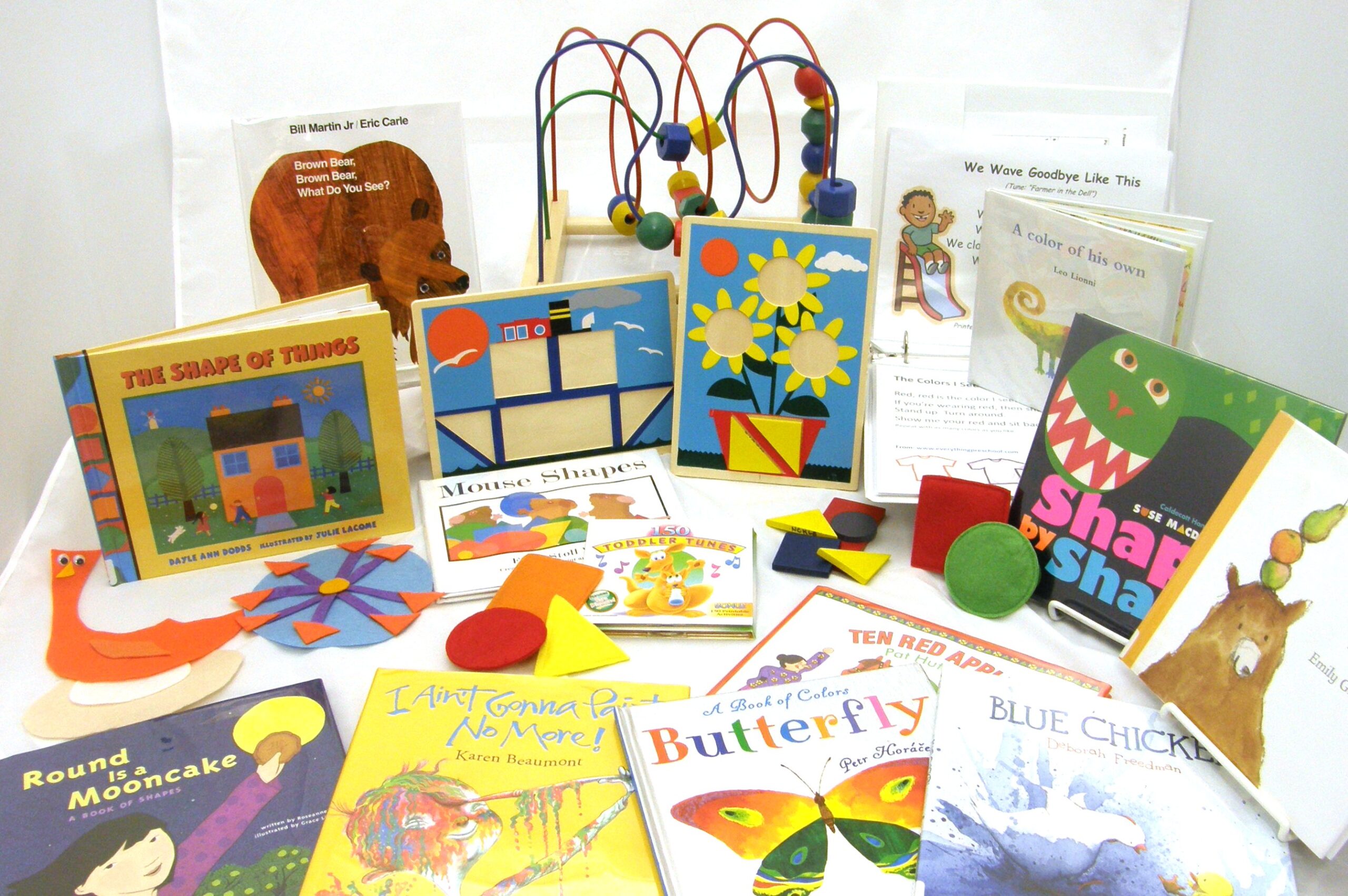 Kit includes:
Wooden Bead and Wire Maze
Felt Shapes
150 Toddler Songs CD
Sail Away Shapes
Melissa & Doug Beginner Pattern Blocks
Bow-Wow's Colorful Life folder story
Books included: Mouse Shapes, Round is a Mooncake, Shape by Shape, The Shape of Things, Green Is a Chile Pepper, A Color of His Own, Blue Chicken, A Book of Colors: Butterfly Butterfly, Golden Domes & Silver Lanterns, City Shapes, and Brown Bear, Brown Bear, What Do You See.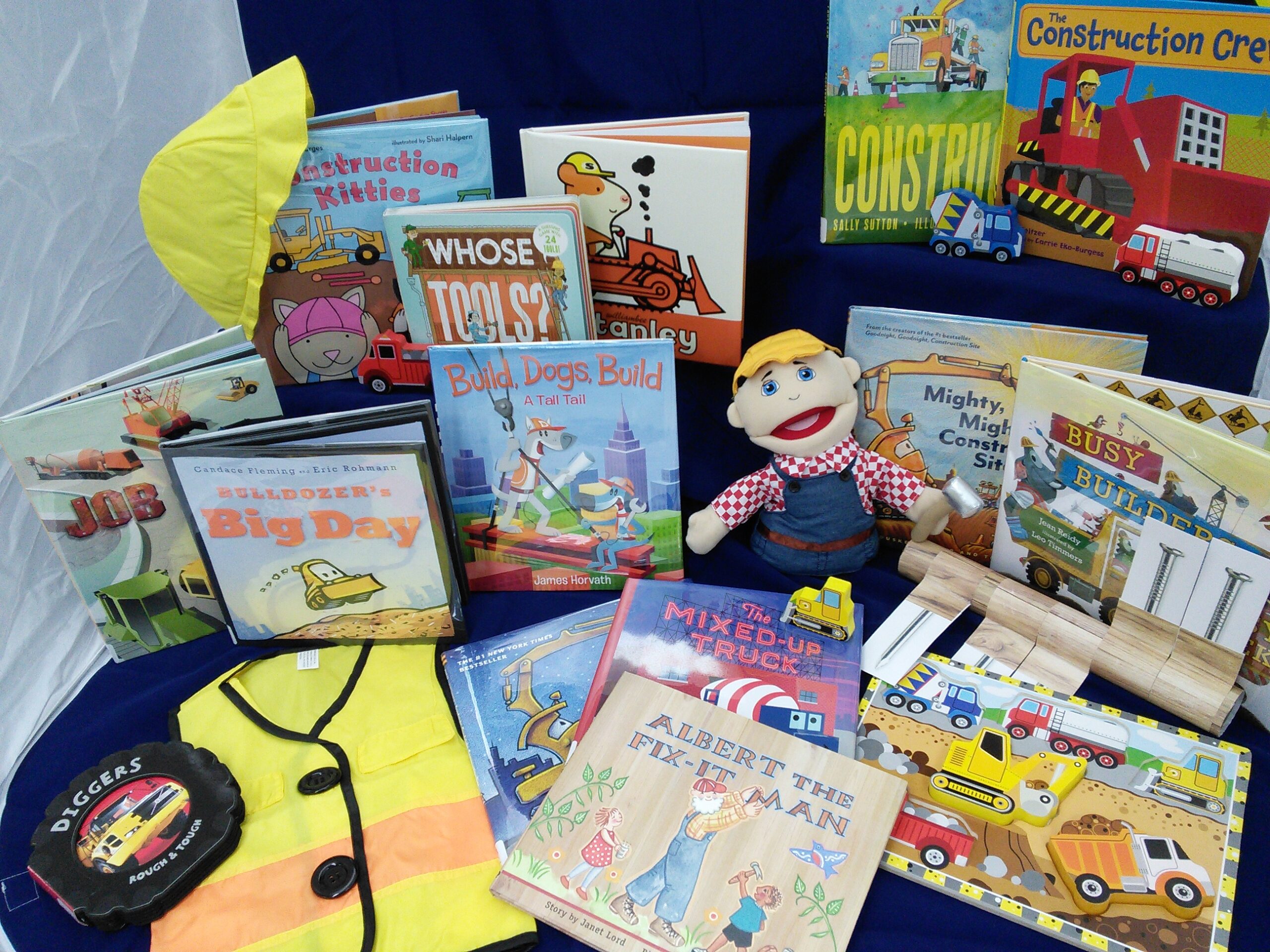 Kit includes:
Melissa and Doug Wooden Construction Site Puzzle
Construction Worker Puppet
Construction Worker Hat & Vest
Five Little Nails prop story
Five Little Hard Hats Magnet Story
Build a House with Shapes Flannel Story
Books included: Albert the Fix-it Man, Build Dogs Build, Bulldozer's Big Day, Busy Builders Busy Week, Construction ,Construction Crew, Construction Kitties, Goodnight Goodnight Construction Site, Job Site, Mighty Mighty Construction Site, Stanley the Builder, Mixed-up Truck, and Whose Tools?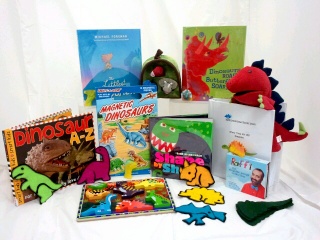 Kit includes:
Dinosaur Finger Puppet Playhouse
Dinsosaur Finger Puppets (plastic, 6 different types)
T-Rex Puppet
Melissa & Doug Dinosaur Puzzle
Singable Songs Raffi CD
Magnetic Dinosaur Playset
5 Little Dinosaurs Flannel (with ferns)
Dinosaur Rubbing Plates
Dinosaur Skin folder story
Books included: Ten Terrible Dinosaurs, Dinosaurs Roar Butterflies Soar, Dinosaur vs. the Library, Shape by Shape, Dinosaurs A-Z, Dinosaur Roar!, Dinosaurs: A Giant Fold-Out Book, The Super Hungry Dinosaur, The Littlest Dinosaur, Dinosaur Kisses, How Do Dinosaurs Play with Their Friends?, and Dinosaur Bones.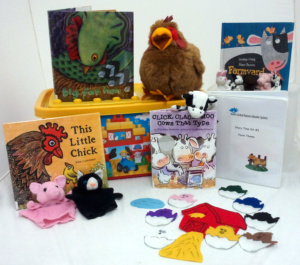 Kit includes:
Hen puppet
Farm animal hand puppets (6)
Farm animal finger puppets (5)
Flannel for "This Little Chick"
Animal Song CD by Raffi
This Little Chick folder story
Books included: Baby Danced the Polka, Old MacDonald Had a Farm, Barnyard Dance!, Thunder Boomer!, Farmyard Beat, Click, Clack, Moo: Cows That Type, Have You Seen My Duckling?, Big Fat Hen, Barnyard Banter, and This Little Chick.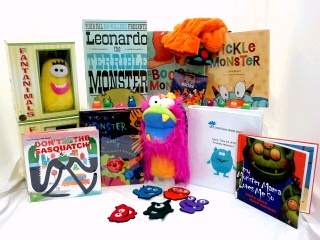 Kit includes:
Fantanimals (2)
Girlie Monster Puppet
Monster Finger Puppets (6 types, 24 total)
Boogie Monster CD
Boogie Monster Booties
5 Little Monsters Flannel
Don't Push the Button folder story
Books included: Boogie Monster, Leonardo the Terrible Monster, Don't Squish the Sasquatch, The Monster at the End of This Book, Frank Was a Monster Who Wanted to Dance, Monster Trouble, My Monster Mama Loves Me So, Larf, Tickle Monster, Where the Wild Things Are, If You're a Monster and You Know It, and I Want a Monster.
Kit includes:
Snack Time CD
Melissa & Doug Sandwich Stacking Games
Sandwich Stacking Game
Picnic Basket & Food
Pizza flannel
Ice Cream flannel
Sylvie folder story
Books included: What's a Banana, Pete's a Pizza, Mouse Mess, Who Ate All the Cookie Dough?, Soup Day, Who Put the Cookies in the Cookie Jar?, Pizza at Sally's, Peter Spit a Seed at Sue, Mmm. . .Let's Eat, Salad Pie, Bee-Bim Bop!, and Tiger in My Soup.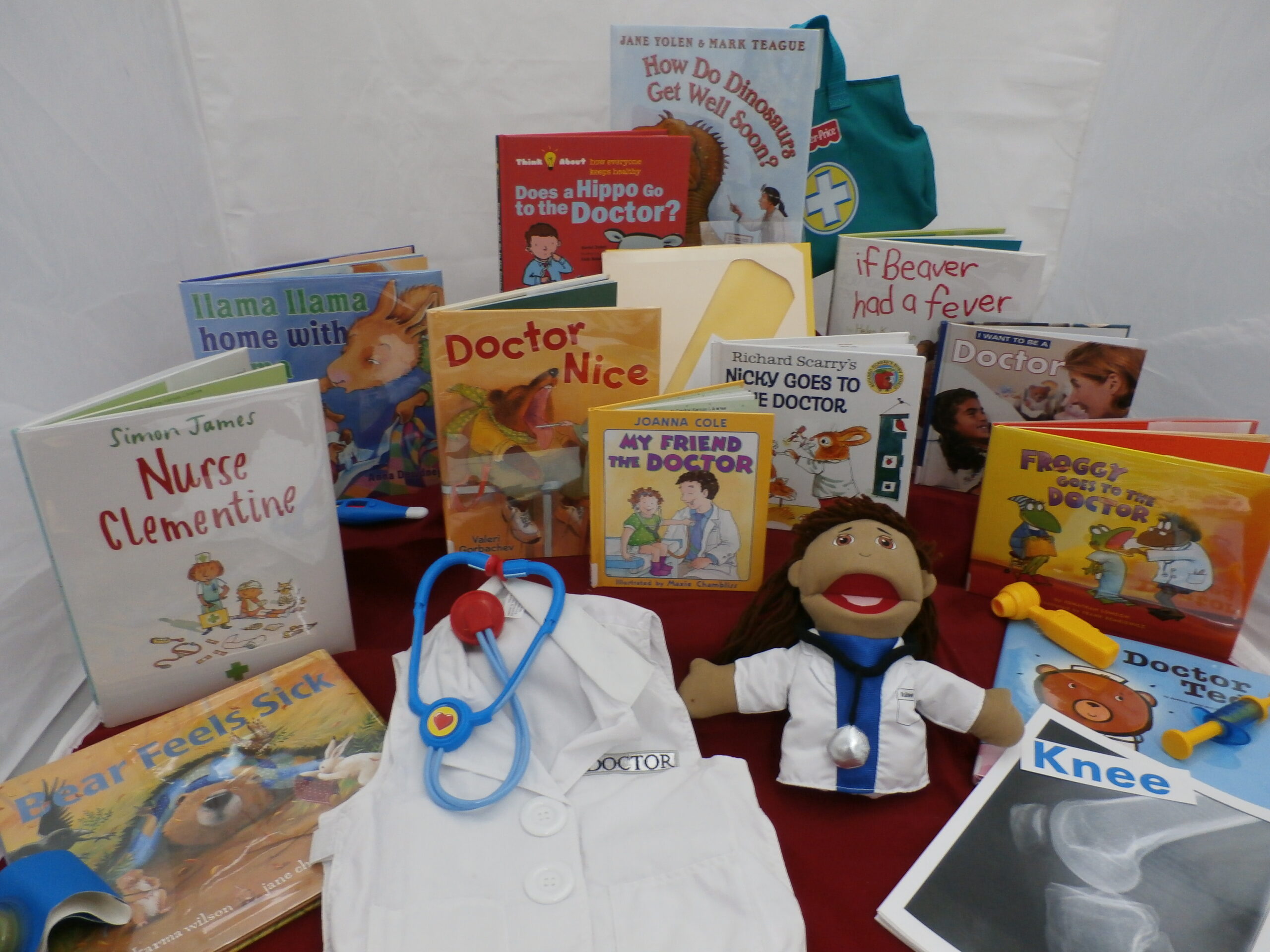 Kit Includes:
Toddler Dress-up Vest & Hat
Community Helper Puppet
Doctor's Kit
Where's Howie's Owie?
X-Ray magnet story
Bandages for Dr. Getwell flannel activity
Bandages, Bandages folder story
Books Included: My Friend the Doctor, Llama Llama Home with Mama, I Want to be a Doctor, Doctor Nice, Nicky Goes to the Doctor, If Beaver Had a Fever, Doctor Ted, Bear Feels Sick, Froggy Goes to the Doctor, How Do Dinosaurs Get Well Soon?, Does a Hippo Go to the Doctor?, and Nurse Clementine.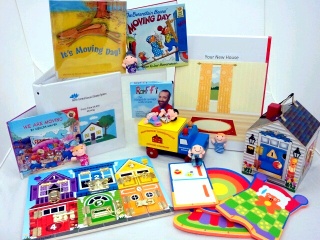 Kit includes:
Melissa & Doug Deluxe Wooden Doorbell House
Melissa & Doug Play House! Reusable Sticker Pad
Classic Moving Truck
Melissa & Doug Deluxe Latches Board
House Giant Floor Puzzle
Family Finger Puppets
Mrs. Mark Moves folder story
Books included: Leap Back Home to Me, Melanie Mouse's Moving Day, Welcome Home Bear, Building Our House, This Is Our House, It's Moving Day, Jack's House, The Tree House that Jack Built, Room for Bear, Froggy Builds a Tree House, A House in the Woods, and Welcome to the Neighborwood.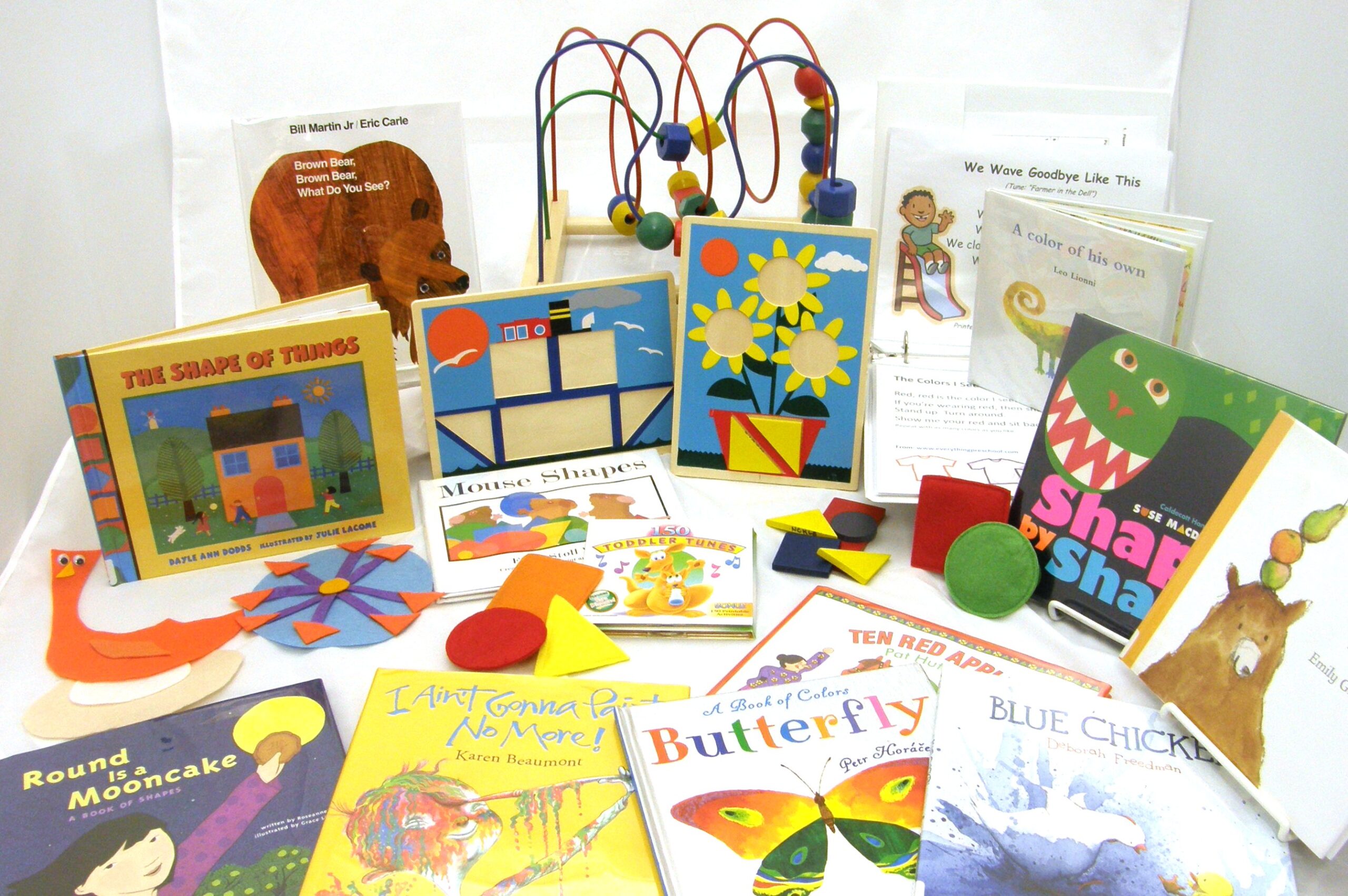 Kit includes:
Flower Rubbings
Bean Bag Fruits & Vegetables
Plastic Basket & Produce
Groundhog Puppet
Chicken Count Game
Play! CD by Milkshake
Dirt Made My Lunch CD
Old McRainbow folder story
Books included: Jack's Garden, The Curious Garden, Eating the Alphabet, Growing Vegetable Soup, How Groundhog's Garden Grew, Lola Plants a Garden, And Then It's Spring, My Garden, The Little Red Hen, Tops & Bottoms, The Enormous Potato, and Rainbow Stew.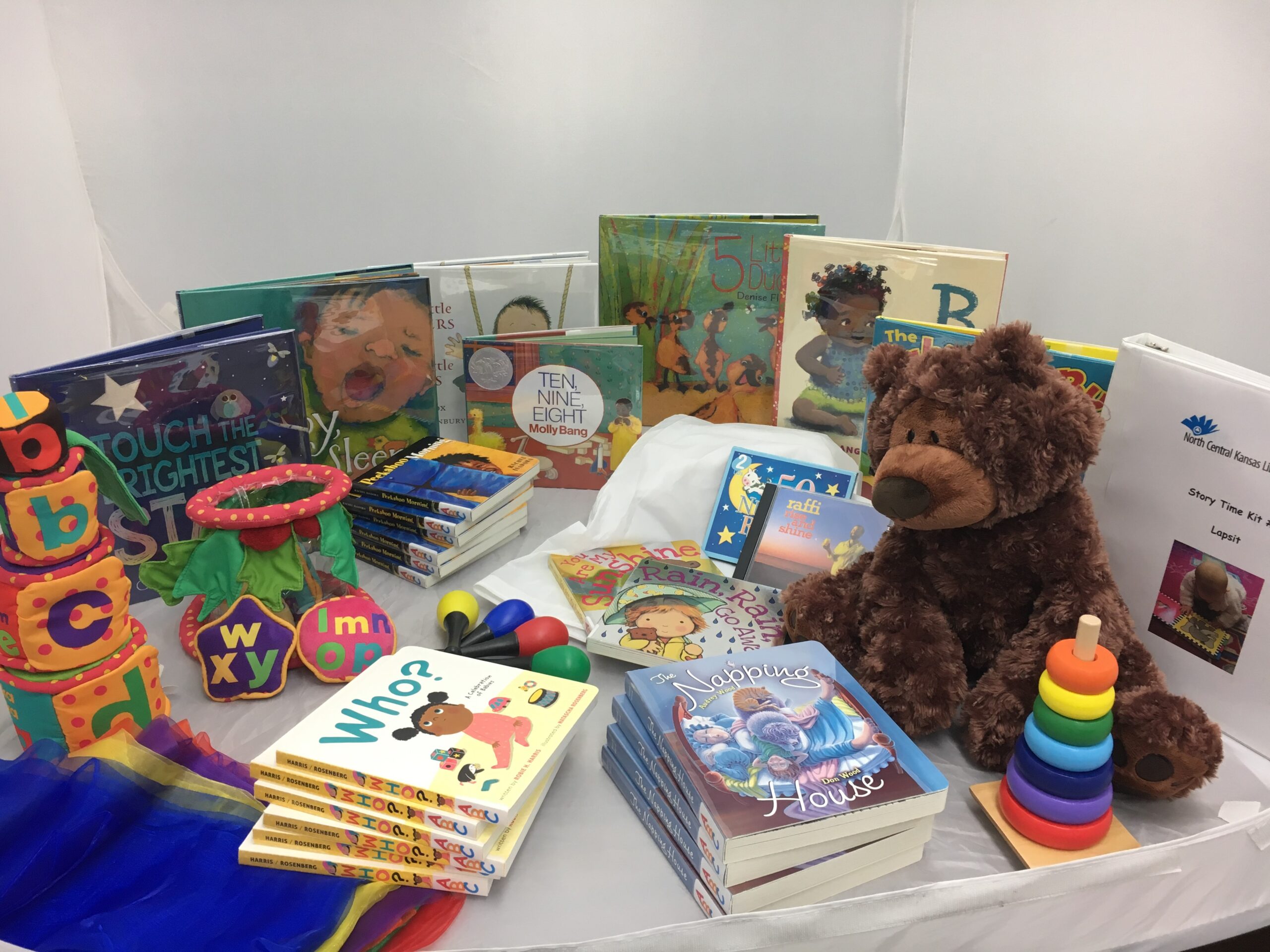 Kit includes:
Large Brown Bear Stuffed toy
Musical Shakers
Dancing scarves
Farm Animal Puzzle
Rainbow stacker
Fill and Spill
Sort and Count

Peekaboo Morning book set
Naping House book set
Who? book set
Books included: 5 Little Ducks, B is for Baby, Babies on the Bus, Rain, Rain, Go Away, Sleepy oh so Sleepy, Ten Little Fingers and Ten Little Toes, Ten Nine Eight, Touch the Brightest Star, and You are my Sunshine.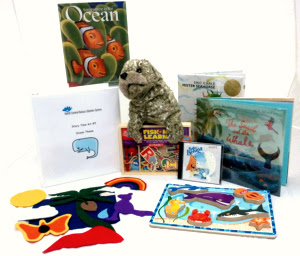 Kit includes:
Harbor Seal Folkmanis Puppet
Melissa & Doug Sea Life Wooden Chunky Puzzle
T.S. Shure Mini Fish N Learn Magnetic Fishing ABC
The Deep Blue Sea Flannel
Baby Beluga CD by Raffi
I'm the Biggest Thing in the Ocean folder story
Books included: Beach Tail, Over in the Ocean, Somewhere in the Ocean, Beach Day, The Snail and the Whale, Beach Feet, Sea, Sand, Me!, The Deep Blue Sea, Swimmy, The Pout-Pout Fish, I'm a Shark, and Breathe.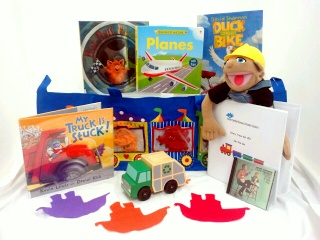 Kit includes:
Puzzle Box with 4 (12 pc) puzzles
Construction Worker puppet
Train Banner with felt pieces
Recycling Truck with loader and material
Pete Seeger Children's Concert CD
This Little Train folder story
Books included: Rattletrap Car, Wheels on the Bus, Sheep in a Jeep, Freight Train, Duck on a Bike, Chugga-Chugga Choo-Choo, Demolition, Don't Let the Pigeon Drive the Bus!, Planes, I Stink!, and My Truck is Stuck!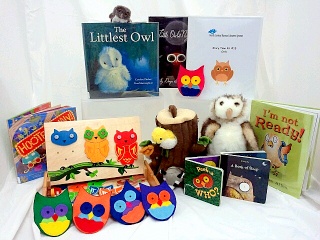 Kit includes:
Plush Treehouse with Animals
Folkmanis Barn Owl 13in Hand Puppet
Folkmanis Mini Spotted Owl Finger Puppet
Mix and Match Magnetic Owls
Little Owl Fingert Puppet book
5 Little Owls Flannel
"Wow" Said the Owl folder story
Books included: Little Owl's Day, Little Owl's Night, The Littlest Owl, Wow! Said the Owl, Hootenanny!: A Festive Counting Book, Night Owl, I'm Not Ready, Little Owl Lost, Owl Babies,  A Book of Sleep, Hoot Owl Master of Disguise, and Owl the the Pussycat.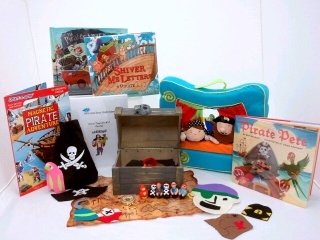 Kit Includes:
Manhattan Toy Swashbuckler Maiden and Pirate Puppets
Smethport Create-a-Scene – Pirate Adventure
Puppettos Theater Stage
Pirate Finger Puppets
Pirates Stickers Reusable Sticker Tote
Melissa & Dough Pirate Chest
Alphabet Letters in a Pirate Pouch
Glow in the Dark Compass
Treasure Map
Magic Treasure Chest folder story
Books Included: Shiver Me Letters: A Pirate ABC, Small Saul, Pirate Nap: A Book of Colors, Bubble Bath Pirates, Do Pirates Take Baths?, How to Find Gold, Pajama Pirates, The Skeleton Pirate, How I Became a Pirate, Are You the Pirate Captain?, Riff Raff the Mouse Pirate, and Charlotte Jane Battles Bedtime.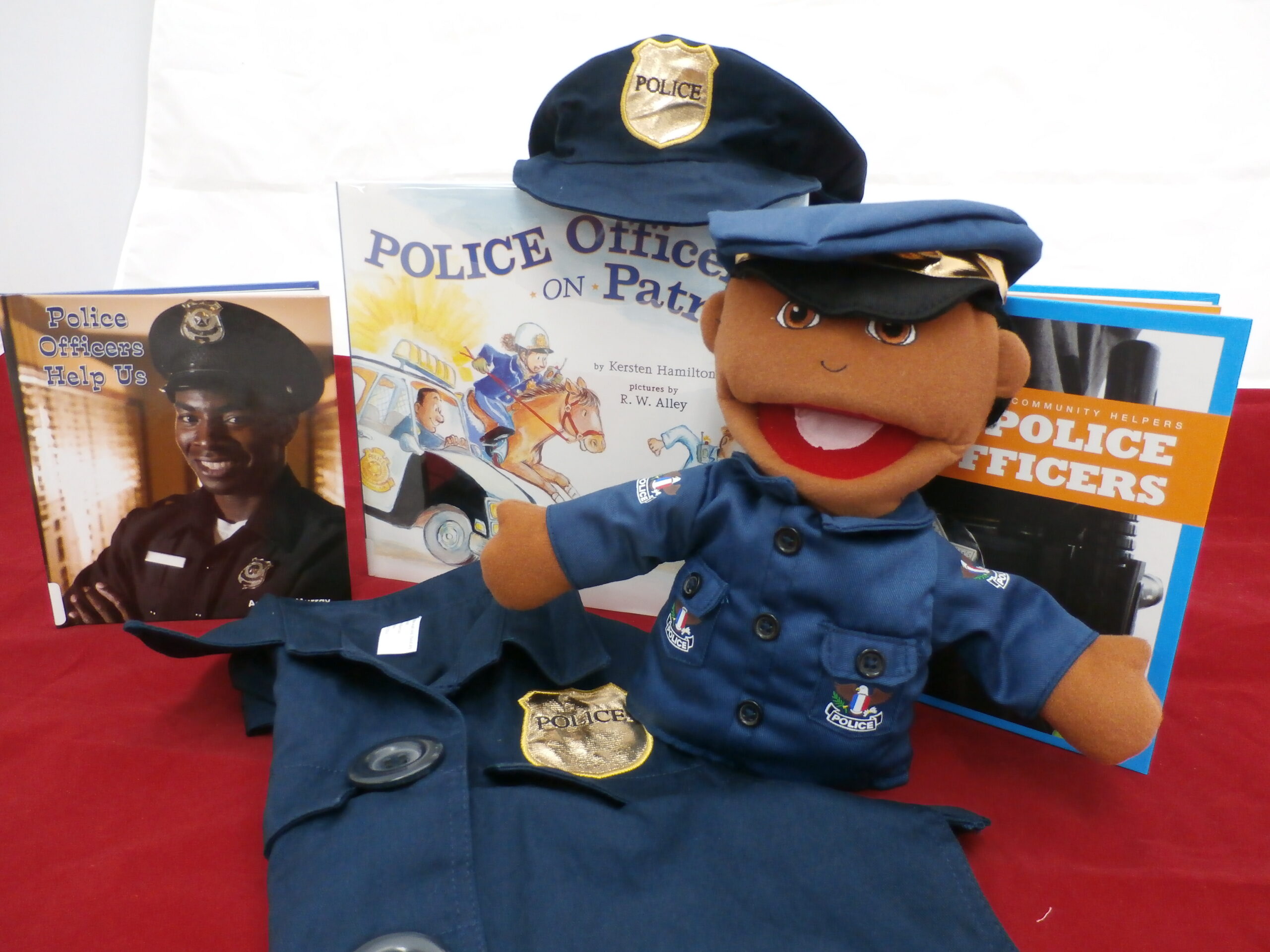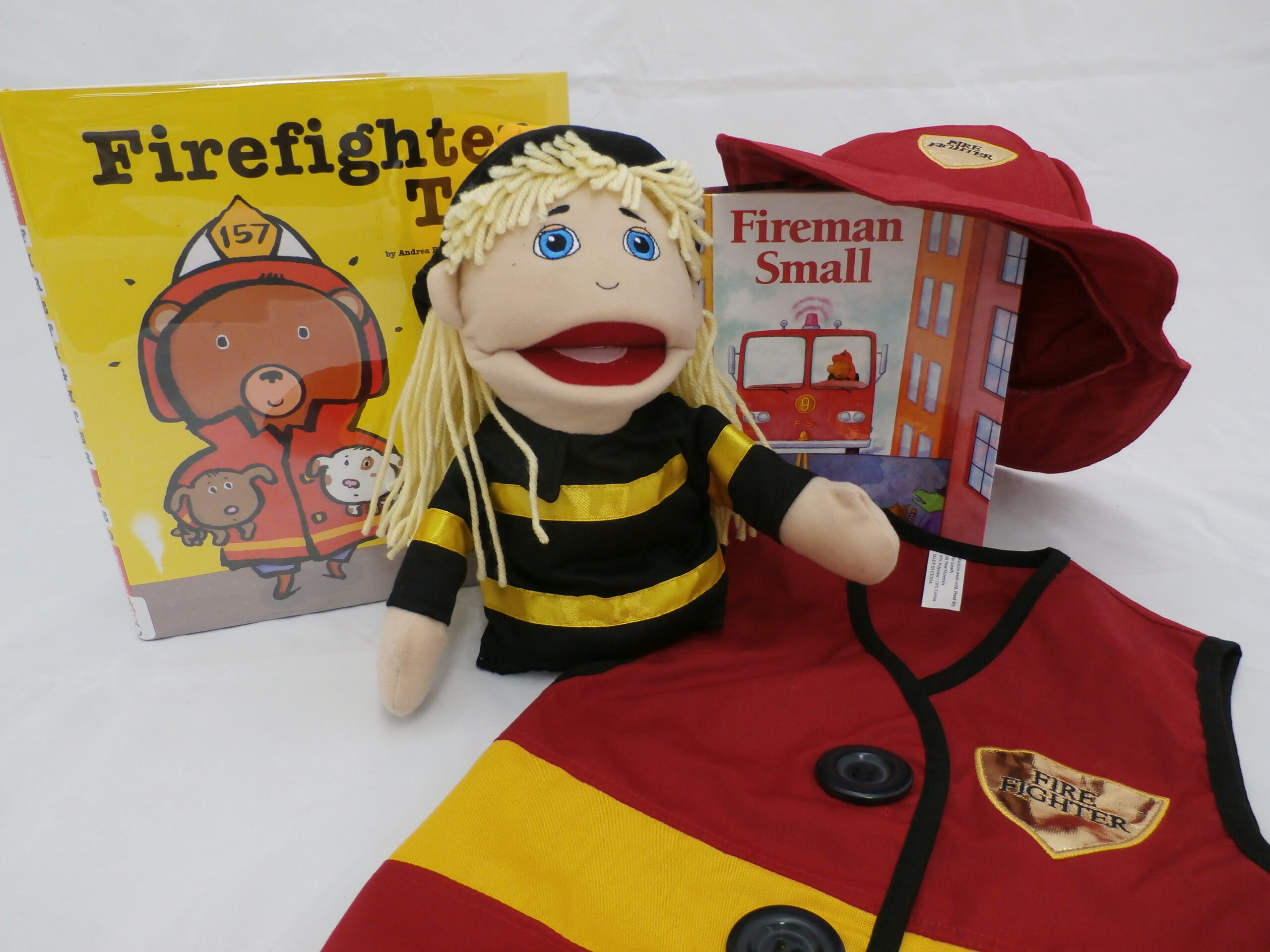 Kit Includes:
Police Officer & Firefighter Toddler Dress-up Vests & Hats
Police Officer & Firefighter Puppets
Police Car Sound Puzzle
My Many Colored Badges folder story
Five Brave Firefighters flannel story
Firefighter Training Cube
Magnetic Town
Books Included: Officer Buckle & Gloria Police Officers, Firefighter Ted, Police Officers Help Us, Fireman Small Police Officers on Patrol, Tito the Firefighter/Tito El Bombero, Police Dogs, Fire Engine Man, Bug Patrol, Fire Engine No. 9, and Traffic Pups.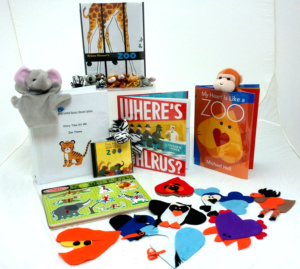 Kit includes:
Tom Paxton's Goin to the Zoo CD
Zoo Animal Hand Puppets
Zoo Animal Finger Puppets
Melissa & Doug Zoo Animals Sound Puzzle
Counting Elephants
My Heart is Like a Zoo Flannel
Red-Eyed Tree Frog folder story
Books included: Bruno Munari's Zoo, 1, 2, 3 to the Zoo Train, My Heart is Like a Zoo, A Sick Day for Amos McGee, The View at the Zoo, A B C Zoo Borns!, Pssst!, Wild About You, Monkey and Me, Can One Balloon Make an Elephant Fly?, Zoo Day: a My First Experience Book, and Where's Walrus?
What are they and How Do they work?
What are Story Time Kits?
NCKLS's Maker Kits contain projects and books that provide libraries with the opportunity to experiment with the Maker Space movement.
The included materials create four or five different projects for an experience-based program where teens and tweens learn how different things work and can try their hands at something new.
How do they work?
Kits are checked out for 2 months

Kits can only be checked out to libraries

All materials in the kits must be returned to NCKLS

Courier, van, or mail can be used to transfer the kit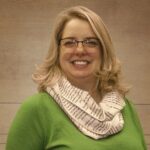 Library Services Consultant